Goldwell Property Management Ltd.
Goldwell Property Management Ltd. ("Goldwell") is the wholly-owned subsidiary of Soundwill Group ("The Group"). Through our professional and prestige properties and facilities management service, enables "The Group" to increase its brand's image and market competitiveness. Our mission is to provide an all-round, exemplary property management service for tenant and client through our property management and technical support teams working together, render a day-to-day, professional property and facility management and operation services.
"The Concierge", operated by "Goldwell", aims to offer a superior personalized customer service to our clients. Besides, Goldprofit (Consultants) Services Company Limited - an associated company of "Goldwell, endeavors to provide a reliable consultancy services with the highest possible standard to secure value for their properties and peace of mind.
Our high performance, productive and motivated technical support team, provides "The Group" with 24-hour, 365-day maintenance and back-up for any emergencies repair and breakdowns that may arise. The expert engineers with highly skilled and well-trained are ready and willing to help the clients sorting out the issues regarding to the related facilities.
"Customer satisfaction is our highest priority", "Goldwell" committed to provide the best possible services to our clients. Due to our distinguished management services, "Goldwell" has become a benchmark for excellence in the industry. Besides, "Goldwell" is a full member of The Hong Kong Association of Property Management Companies Limited and the member of the Hong Kong Security Association.
"Goldwell" makes a multi-pronged contribution towards the property management industry by advocating the improvements in management and enhancing the service standard of the industry with abiding by professional ethics, as well as assisting to attain perfection of rules and regulations.
Management Policies & Operation Direction
Under the management of top management, "Goldwell" obtained ISO 9001, ISO 14001 and ISO 45001 certification at multiple sites in September 2020. "Goldwell" implements all business aspects including strategic planning to maximize the satisfaction of sustainable development. Identifying and analyzing the risks, underlying the achievement of business objectives and for determining how to manage and mitigate such risks.
"Goldwell" continues to improve its Integrated Management System, focusing on Occupational and Health Safety, Environmental Protection, Abidance by Regulation, Self-examination and Customer-oriented.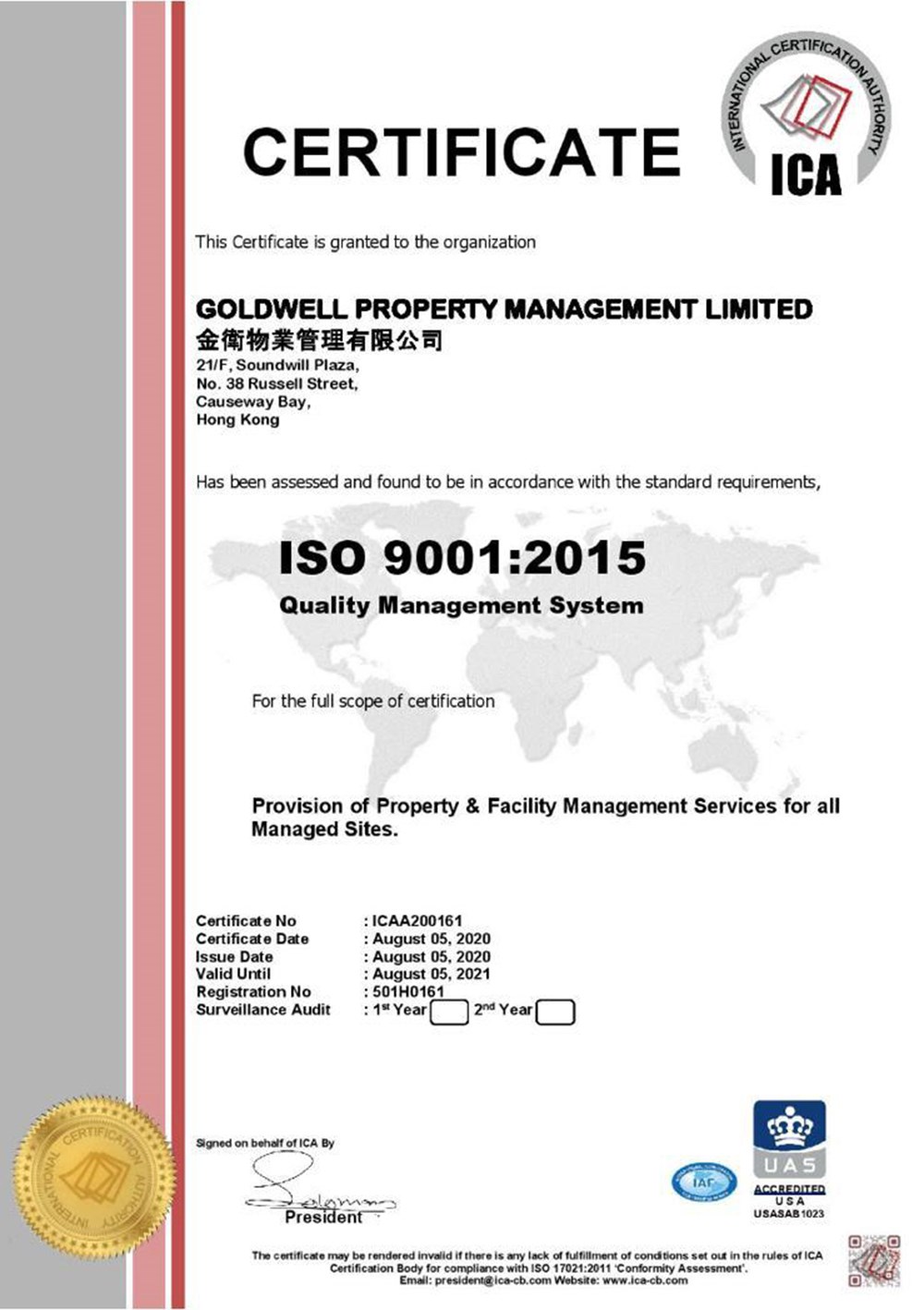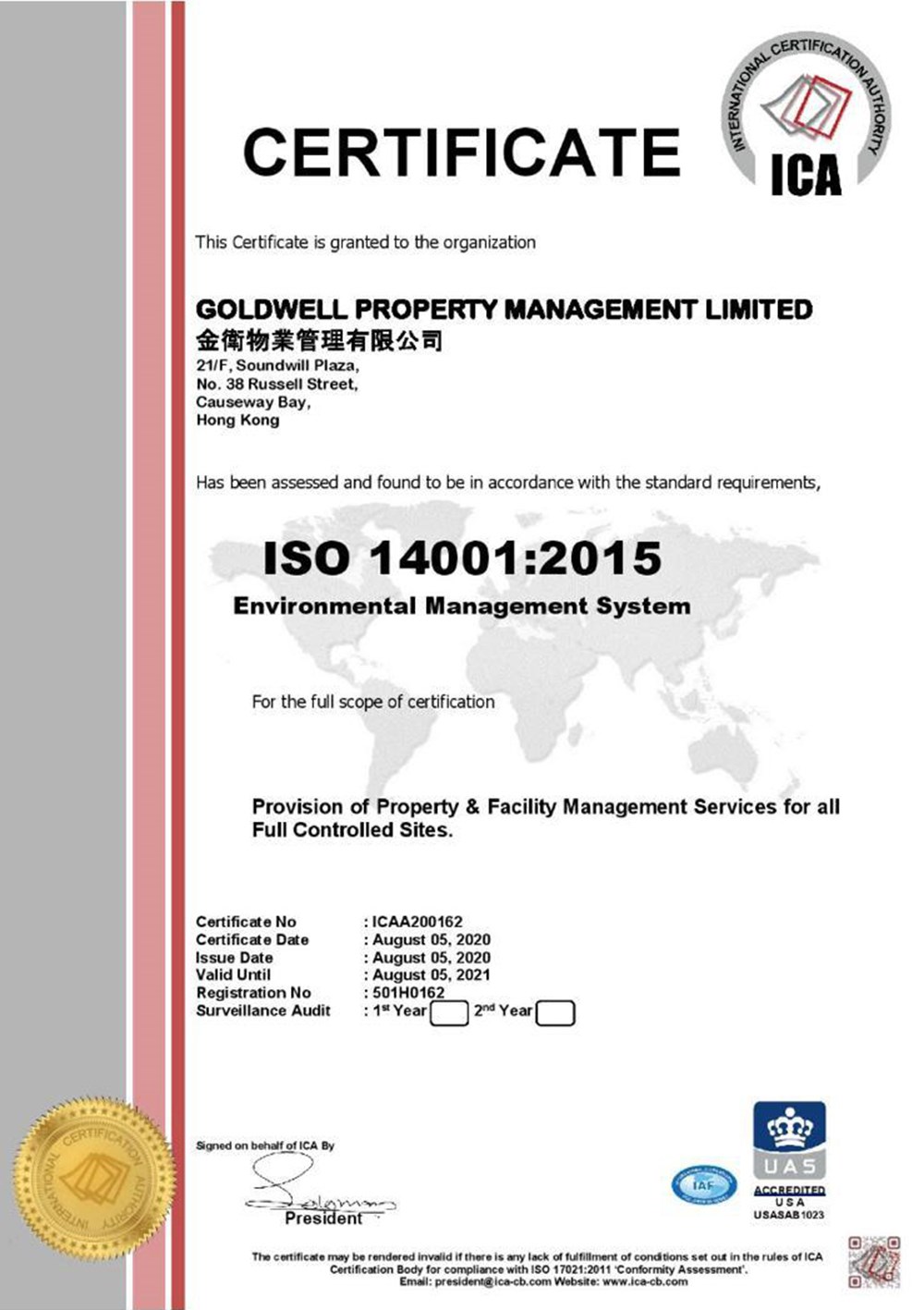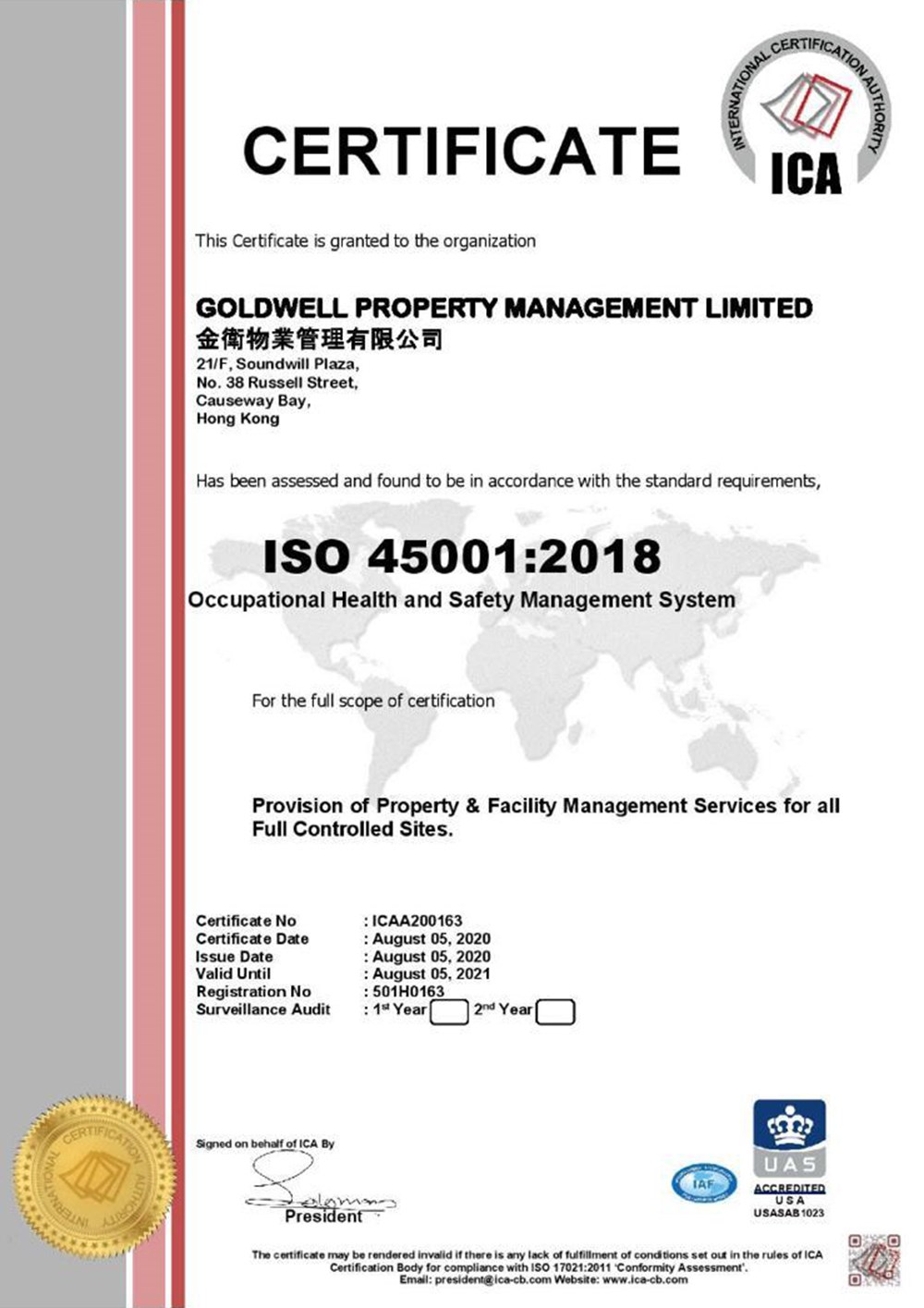 Other Information:
Tel: +852 2891 3015
Fax: +852 2893 9227